A Fantastic Trip in America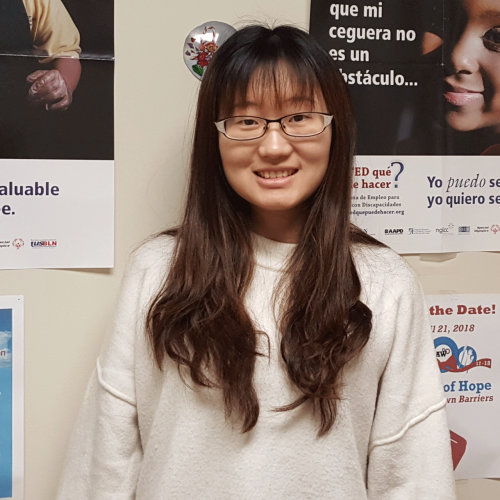 My name is Jenna. I come from China and now study in Fudan University. I am really happy to be an international volunteer in Asperger Works in Lawrence. Asperger Works is a non-profit organization aimed at putting adults with Asperger's Syndrome to work. I have seen or experienced all kinds of volunteer projects but I have to admit that Asperger Works is one of the most amazing and fantastic idea I have ever seen. Adults with Asperger indeed have difficulty in finding a suitable job and getting adapt to the office environment, which is ignored by most people including employers. We hope what we are doing in this little office can bring some big changes to the situation of these people.
During my trip in America, I had an interesting and meaningful experience in Asperger Works. We helped Eva do a lot of work here like designing postcards and searching some contact information. Although they seemed to be a piece of cake, it still took us some time to figure them out. There is no doubt that we learned and acquired many types of useful techniques. Eva also instructed us how to do mail merge. After we learned, it just worked like a magic! This working experience in America is a treasure in my life. It taught me how to listen to others carefully, how to put creative ideas into reality and how to focus all the time!
What I also want to talk about is people here in Asperger Works: Eva, Lisa and Daniel. Eva is our American grandma. She is nice, patient and full of passion for this organization. When we had lunch together, she loved telling stories about her family, her dog and her experiences as a computer and math teacher. I really enjoy listening to Eva's stories because I love her comfortable and beautiful speaking. Daniel and Lisa are brother and sister. Lisa is an outgoing and amazing person who knows almost everyone in this city. She loves this city deeply and took us to go around in Lawrence to feel this lovely and peaceful city. Daniel is our big brother who knows a lot about China. He volunteered to take us to Boston and accompanied us during the whole trip. These are great people I met in Asperger Works. They taught me a lot and I learned a lot from them. We are just like a family. I can't imagine how much I will miss them when I come back to China. I really hope Asperger Works will grow better with the endeavor of every worker and every volunteer. When everybody's work accumulates, big difference will be made in the future.
After work, my friend and I went back to our home. This is another story I would like to write down. Nora is our American mom who can make the best food in the world. She is a pretty and cute mom who is patient to baby and even to us. When she were driving, she would introduce the different stores on the street to us and sometimes we made jokes on each other, which made three of us laugh loudly together. What's more, we had a lot of fun when following her to go shopping and pay a visit to her sisters' or daughter's house. There are also many interesting places in America, which left a deep impression on us when we visited them. We love living with Nora. She said she would take a trip to China next year and we really want to meet her again in China!
The unforgettable trip in America is so colorful and interesting that I can't wait to recommend it to my friends in China. I appreciate the treat and the help from Nora, Eva, Lisa, Daniel and everyone I met in this amazing country. Thank you! I will miss all of you!