My Three Weeks at Asperger Works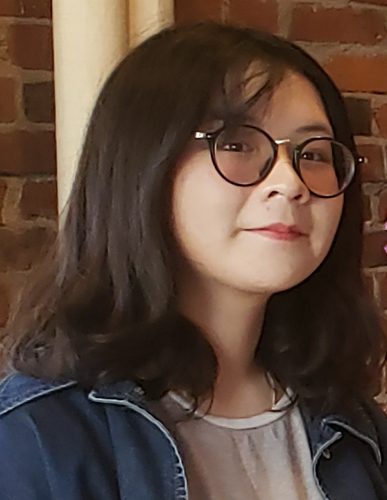 My name is Ma Linna, but everyone calls me Marina and I come from Guangdong Guangzhou in China. I am a freshman of Jinan University.
I have stayed with Asperger Works about three weeks as a volunteer and learned a lot at there.
The most impressive things is that I learned about many things of Asperger's Syndrome, which was an unknown area to me. I learned that Asperger's Syndrome is characterized by difficulties with communication. People may have trouble reading body language and other social cues such as eye contact, voice modulation, shaking hands and many other cues, and they may appear clumsy and uncoordinated. Because of that, the work market is not that kind to the people who have Asperger's Syndrome.
To improve the employment environment of adults with Asperger's, Daniel and his lovely family are a large part of Asperger Works, an organization to put adults with Asperger's to work. And we met them in Lawrence and spent a fantastic three weeks. Many things can not be felt until you see for yourself. Many people still know few things about this Autism Syndrome and pay little attention, which is not useful for people with Asperger's to find jobs and go to work, and we are trying our best to change this situation.
Working with Asperger Works, I also learned a lot about the Unite States and Lawrence. In fact, I learned many things that we can not learn from books. Eva and Lisa took us to walk around Lawrence, and they told us a lot about American history, very patiently. I would like to share my experience with friends.
Lucky for me to meet Asperger Works. Eva is so gentle and patient, I love listening to her talk, and enjoy communicating with her. She told me about the clock of Lawrence, the museum of Lawrence, the people of Lawrence. Lisa is a lovely girl and would like to share her opinions, her feelings and her thoughts with us. Lisa told me that you are who you are, you should not force yourself to become another person. Daniel is curious about many things about China, and we had a long conversation since he had many questions about our country. And he is a very responsible person, he can manage the work of organization and balance that work and his paying the work at his paying job and his life. Adam is a knowledgeable man. He can speak many different kinds of languages and enjoys learning new things.
What's more, the most important things l learned is the attitude of the life. The people I met at Asperger Works live in a positive and happy way. They know what they want and what they can do. So they establish the organization, a really meaningful and lovely place.  They taught me to be a kind and nice person and helped me to experience new things.
I really appreciated that I had opportunity to meet so nice guys in America. And thank to my coworkers Crystal (my best friend in school) and Bingo another volunteer from China. I believe we will meet again sometimes.