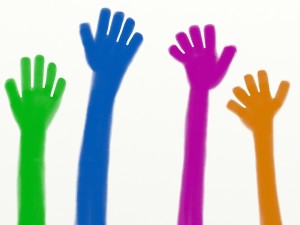 Volunteer with Asperger Works, Inc! You may not get paid, but you will experience how it feels to be regarded as priceless and a hero!
Volunteering is an excellent way to get involved with helping the employment opportunities of persons with Asperger's Syndrome. We encourage all of our volunteers to work in person but we appreciate any and all help that you can give us.
There are many volunteer opportunities available at Asperger Works:
March with us in parades

Help attend our table at community events

Prepare folders to disseminate information to local businesses and interested persons

Identify and solicit potential sponsors

Suggest your own ideas about how you could help us
We are also looking for:
Grant Writer – Asperger Works is seeking a grant writer to help us through the process of grant writing. Thanks to a wonderful volunteer from Community InRoads (formerly Jericho Road), we now have a grant template. But we could still use some help. Interested? Please contact our volunteer coordinator through our Contact Form.
Board Members – We are growing our Board. We need people with the following calling: 
Specialist with experience in headhunting or recruiting to help us develop our job-sourcing program;

Social worker with job-coaching experience;

Insurance expert;

Passionate Aspie; and/or

Any ardent individual committed to improving the lives of adult Aspergians.
Check out the job description at our parent site, then apply! We would love to have you onboard.
Translators (English-Spanish) – Since we are living in a multicultural, multilingual community, it is important for us to reach as many people as possible. At this time, we need volunteers who have good writing and speaking skills in Spanish to speak for us in front of Spanish-speaking audiences and to help translate our Website, brochures, and informational documents into Spanish. Are you interested? Contact our volunteer coordinator and complete the application form!
Join us! We will be so happy to have you as part of our extended family.