My amazing experience in America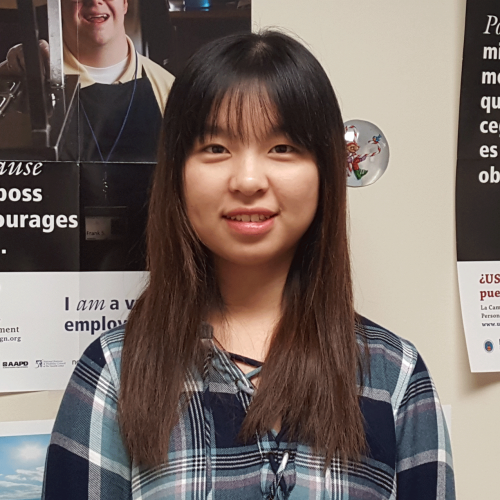 Hello everyone! My name is Serene Yang, a college student from Fudan University, Shanghai, China. During the last four weeks, here in America, I have met some amazing people, participated in very meaningful work and visited many beautiful sites from New York to Boston. I am quite certain that this great experience will never fade from my memory.
Since this is my first time to get to America, I was very nervous and excited before I boarded the plane. I had to stay at Shanghai Hongqiao International Airport overnight in order to catch the plane very early the next morning. Fortunately, I met my classmate Jenna, who is also my roommate of the same host family and partner of the same organization, Asperger Works, at Beijing Capital International Airport. Thanks to her company along the way, we succeeded in arriving in the United States and in meeting our enthusiastic host mum Nora, her beautiful daughter Jourlisa and her pretty granddaughter Amelia.
Our house is located in Lawrence, which is a tranquil and beautiful town. Our host mum Nora is a really really nice person and always make delicious food for us, from Dominican food to American food, from breakfast to dinner. Nora prepares coffee for me every morning, which is a wonderful wakeup call for me. Not only so, she took us to New England Aquarium in Boston and The House of the Seven Gables in Salem. What impressed me a lot, which is also the distinction of NEA is that they show the conservation ways beside each marine animal, reminding us the importance of protecting wildlife. Besides, it's really unforgettable that Nora's eldest daughter Melisa gave birth to a baby boy on Valentine's Day, which is really exciting and romantic!
Our another family in the United States is the organization, Asperger Works. Here I have met a group of people whom I will remember for my whole life. Eva, who is in charge of our work, is a really really enthusiastic, considerate and warm-hearted woman. Every time she meets us in the morning or drives us home, she will give us a warm hug, which makes me feel very cordial. Daniel is Eva's son. Trust me, he is a very brilliant person and has an awesome sense of directions. It seems that he knows everything in the world and is willing to tell you everything he knows. I remember there is a Friday afternoon he took us to a Chinese restaurant for lunch and then to Rockingham mall for window shopping. We had a great time together, talking about Chinese traditional food, Asian tastes, American custom, tourist attractions all over the world, our childhood, hobbies, future plans, etc. Besides, we went to the Museum of Fine Arts together. It is an amazing museum and owns countless remarkable exhibits. Lisa, who is Eva's daughter, is also a very warm, kind and talkative person who is really good at adjusting the atmosphere and making jokes. She took Jenna and I to Lawrence public library, Lawrence museum and the city hall. The work I am mainly responsible for is designing postcards and flyers and collecting information from different websites. The postcards and flyers are for the AW organization and the coming Dinner of Hope in April. It is a pity that we have to go back to China at the end of February so that we can't participate in this dinner personally. But we will wait for the videos and photos on the official website!
Last but not least, our organization is doing work of great significance, that is to help adults with Asperger's Syndrome lead productive lives through gainful employment and to educate employers about the positive side of hiring people with AS. If you have any interest in or want to support for us, welcome to our big family!