A Wonderful Experience in America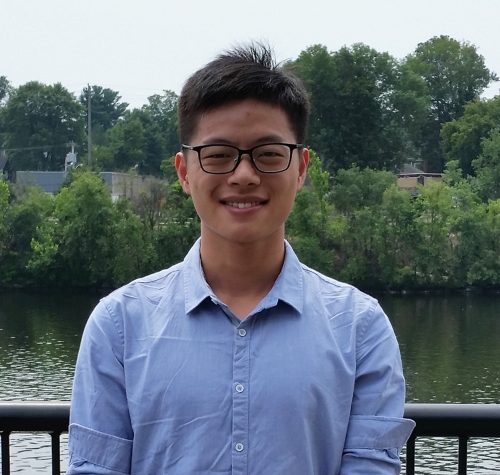 Hello everyone, my name is Xinze Tang, and my English name is Eilian. In the last four weeks, I have been a volunteer in Asperger Works. I am an undergraduate student in Zhejiang University, Hangzhou, China. This is my first time to come to America. I'm sure this trip will be one of the most crucial experiences in my life. The memory will stay fresh and last forever in my mind.
I was a little nervous when I was waiting at the boarding gate in Beijing Capital International Airport. However, when I step onto the land of Boston, what I could feel was all about how excited and comfortable I was. When I got across the customs, my American mom, whose name is Diana, has been waiting for me. She drove me around and we enjoyed a little scenery of Boston, then we came back home.
The house is located in Lawrence, where there is a large number of Spanish/bilingual speakers. The house is very nice and I love the big open kitchen. I have known it in China that open kitchen is a symbol of America family. The first day, we went to her sister's house and her sister cooked some delicious beef for us. Since they are Dominican Americans, they eat rice for meal just like what Chinese people do. But there are some differences. They put salt and butter into the rice when boiling, but Chinese people just put the rice with water and do not add anything else. After tasting the delicious Dominican rice, I think I will try to bring this cooking way to home and share it with my family. In the following weeks, Diana prepared different kinds of food for me including homemade sandwiches, hamburgers, hot dogs, roast chicken, bean soup, scrambled eggs, Dominican empanadas, plantains, etc. To tell the truth, I really like the food she prepared for me and I'm grateful for that. Moreover, Diana helped me to order the bus to New York, drove me to the cinema and took me to the super market. She did a lot of things for me. I really appreciate her.
In my host organization, Asperger Works, Eva is in charge of my work. She is a really nice and warm-hearted who cares about me a lot and she is always willing to talk with me. In the beginning of my work, their new office wasn't set, so I took the train to Bradford every day and Eva would pick me up at the station. After they set up the Internet in the office, I was able to go to the office. The office is in a beautiful stone building and it's very comfortable in it. Then come to the work I did this month. In general, most work that I have done was related to videos. I edited three different videos for them. The first one was about an interview. I managed to add a beginning animation and an ending credits. The second one was about their actions in the GLCAC Resource Fair. I took many photos and several videos to record their work. Afterwards, I combined these photos and videos into one showing video and added many transitions and motions to make it look cool. The third one was about the volunteers. They recorded three volunteers of them, including me, who are saying something encouraging. I put these three videos together and added the subtitles. I also came up with some ideas to help them improve the splash page of their official website.
By the way, Eva and her family were so nice that they took me out for sightseeing on one Sunday. We went to Newburyport and Salem and these cities were very beautiful. I really love the European architectural style. I was grateful that Adam bought me a T-shirt for gift.
At last, I'd say that it was a really fantastic and unforgettable trip. If any of you want to volunteer for them, or you are interested in Asperger's Syndrome, please join us and do something good for the community.