Winnie's American Volunteer Experience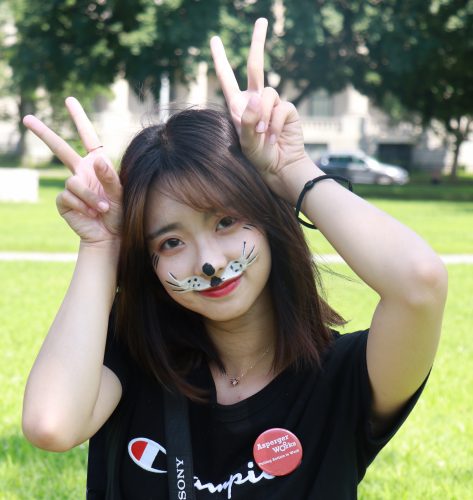 My name is Winnie, a volunteer at Asperger Works. I am a college student from Shanghai University. It was a coincidence that let me know about the existence of this program. When I found the information about this program first, I can't wait to participate. I chose to stay in America for two mouths to be a volunteer. Not only for myself but also to try to help people in need. I haven't a chance like this before. During the eight weeks I have spent here, everything has been unforgettable.
I took a 14-hour flight to Boston and met my host mom, Diana. She held up my photo and name to let me find her for the first time. She gave me a warm hug and introduced me to my roommate Emon. On the day I arrived here, we took the Boston Harbor ferry and spent four hours on the ferry until the evening. Even though it was raining, we watched Boston on the ferry and enjoyed the whole brightly lit city. And then, we got home and got enough rest. Thanks to Emon. She took me to know all the information I might need to know in America, such as public transportation, and something about my host family.
On the first day of my work, I met Eva, who is a talkative person. But at that time, it was still very difficult for me to talk to people in English. In the face of the passionate Eva, I was even overwhelmed. I was only able to reply to her "Yeah" or "I know" all the time. I tried hard to listen to what Eva said so I can understand what she wants to tell me through her body language. She took me to visit the building where I would be working. It is a century-old building with deep red brick and historic wood floors. I am happy to work in this kind of building. I happened to go to Eva's home on the first day. I think she must be a very loving person. I like the little dolls in her house and a lot of delicate little ornaments. Maybe it's the habits that American have, I don't know very well, but when I enter her house, she will play soothing music to fill the house. I really enjoy that kind of music that surrounds me and is very relaxed.
After that, I became more and more accustomed to doing communication in English and started to be less nervous. So I knew more about Asperger's symptoms through Eva. Although I searched for Asperger's before I became a volunteer in this organization, I couldn't find useful information to really understand their situation. Eva told me about the state of Asperger's adults, and I realized that many people would mistake Asperger's for autism. I sincerely hope that more people will know about Asperger's, which is also sometimes called high functioning autism. If more and more people can know the existence of Asperger's, they can understand those who have Asperger's. It's because people with Asperger's may not know how to express themselves or understand other people's physical movements. But apart from that, they are no different from ordinary people, and even some are smarter than ordinary people.
On the "Asperger Works" website, I can find a lot of information about Asperger's. I spent a whole day looking at the entire website, and I also want to improve the situation that people ignore the existence of Asperger's. And I know about, as long as the person has Asperger, they can not completely solve this problem with their lives, they have Asperger's their whole lives. Maybe they are just more honest than ordinary people. Maybe they just can't express their thoughts too much. Maybe some of their unconscious body languages will make others misunderstand. But as more and more people can understand the existence of this group, they will be understood.
People need to live, people need work to make money. China has a folk adage, "Give a man a fish, and you feed him for a day; show him how to catch a fish, and you feed him for a lifetime." So this institution is able to help people with Asperger's be able to find a job that suits them. My college major is designing, and I can only do my best to help them do things that I can do, such as design posters and signs. We have a lot of different ideas, but we still lack sponsors with different skills to help our volunteers, as well as financial sponsorship. I look forward to having more people join Asperger Works to help the people in need. Good work begets good work.
It is very important to say that although this is a non-profit organization, it is very warm. If you become a member of our organization, we will treat you like a member of the family. I am a Chinese college student. When I met Adam for the first time, he took me to the Chinese restaurant. I guess he wanted to surprise me to eat food from my own country in a foreign country. I couldn't even find a suitable word to praise Adam. He is so cute. His existence is to give a gift to everyone around him. And Eva's daughter, Lisa. She is considerate and enthusiastic. I just mention that the popcorn made by Lisa is delicious, and then, she gave me five bags of popcorn which she cooked. I talked about I haven't seen a movie in the US, they immediately took me to see a movie. She and Eva also took me to the local history museum, city hall, the funfair and Lisa's favorite restaurant. They tried to share the different experiences they could bring to me in America. I really appreciate them. And, Daniel, he took me to the witch town, Salem. I visited four museums there. He is a wonderful person, he often says "Lady first" and "You are very welcome", and he said that if I want to go anywhere, I can contact him, then he can drive me to go. In short, meeting them is the biggest surprise.
The life of my host family is also exciting. Most of the volunteers that participated in this project chose to live here for one month, but I chose to stay for two months. This also led me to have three roommates during the eight weeks. I mentioned Emon before, she only accompanied me for a week, but we became best friends. I have a lot of wonderful memories with her including the first time I took the train to Boston, went to Harvard and MIT with her, and took a lot of photos. We tried to cook Chinese food here and so on… Although she has returned to China now, fortunately, we are from the same university. My second roommate, named Catherine. Her character is like a child, very lively and lovely. She loves her work very much, always energetic. From her, I can find passion and yearning for life. My last roommate was Emonor. It is not long to let me touch with her, but she is always active and will take care of others. I always chat with her very comfortably.
About my host mom, Diana. She is busy to work, but she also always considered with me. She often lets me participate in her family gatherings, and there are activities like outdoor barbecues. She will take me to church on Sunday. And took me to see the fireworks show on the eve of Independence Day. As long as she is free, she will prepare me daily food, and many times she will prepare Spanish meals, which is curious for me to see what I eat every day. She also often buys fresh food in the refrigerator and tells me that I can use it if I want to prepare the food in the refrigerator. I am very grateful to her that I can during the wonderful days live in America.
During my participation in this project, I met many friends and went to New York together. The trip to New York is so exciting that I almost can write another essay about this fantastic trip. During this eight weeks, I am also familiar with Boston, and I can even find a route without a Boston map.
I have never been alone in this time here. Except for my roommate, I also have friends that work with me. I went to the New England Aquarium on Independence Day with Lakus, and she also was one of the people that went to New York with me. And Maris, I feel pity that I can't accompany her for four weeks. She is like an old friend of mine. I like her character very much. We always make fun of each other. The way I get along with her is like a friend that has known each other for several years. Sira, I just have one week with her, but I believe she will be good during the wonderful four weeks here.
In the end, I still want to mention Eva. She is not only a surprise for me just in this project, she is one of the surprises of my whole life. One of the things I was most impressed was that one day when she drove me home, there was a small accident. Her car was hit by a police car. I think most people will feel bad if they have encountered such a thing. After all, this is not a good thing. Even this will affect people's mood for a day. Because of such a thing, they always need a lot of follow-up work, for example, going to the police station and repairing the car. But, after Eva confirmed that the people in the car were safe and not hurt, she just said that this is a different experience for me. I can't see a little complaint about this bad thing from her. Even she can chat easily with the police. The majority of people's personality determines their lives. Having a positive attitude and a pessimistic mindset is very different. I learned a lot from Eva. Not just this thing. I always say that she is my English teacher, but during the time with her, she is my life teacher. Eight weeks ago, it was difficult for me to communicate with foreigners in English. But now, I can chat easily. All of this, I want to thank Eva for her help and encouragement. But far more than this.
I was still in America while I was writing this essay. I can't guarantee that I will return to this place. I am reluctant to leave them. I cherish every moment here. I want to record a lot more than this essay. I don't really want to say goodbye. But, just as an old Chinese saying "All good things must come to an end." And this memory will be unforgettable to me.